On Sunday,September 10 2017, ANAK participated in "A Day on the Island of the Gods".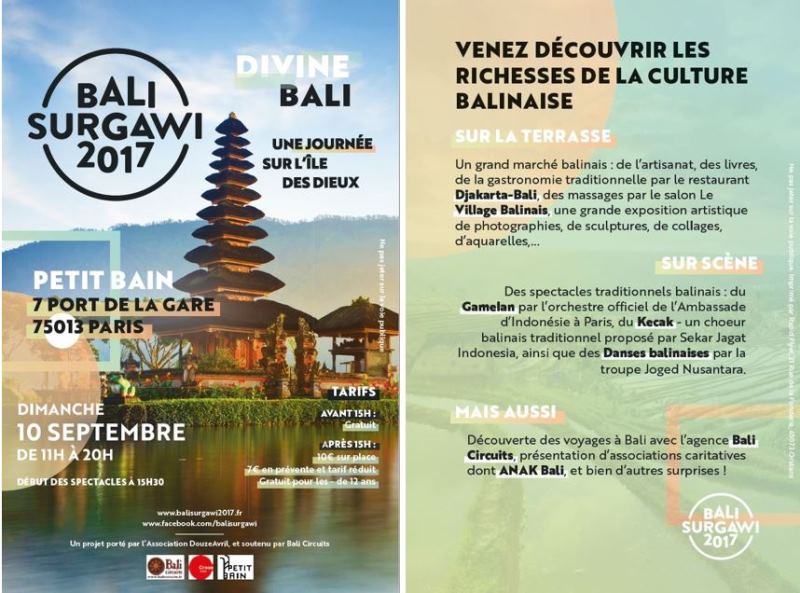 Located in the 13th district of Paris, Petit Bain is an unusual but friendly space in the shape of a floating barge. Moreover, it has an unobstructed view of the Seine River!
---
> http://www.balisurgawi2017.fr/
Discover your passion at stands on the boat's outside seating area
– charity organisations : environmental protection, stray animals, ANAK, orphans, etc.
– tourism : presentations by tourists, bloggers and specialised tour operators
– culture : presentations on Balinese religion, traditions, culture, sports and games by volunteers and Balinese students.
– short and medium-length documentary films
Events to be held on Petit-Bain's inside stage:
– live Balinese music: gamelan by Pantcha Indra (http://www.pantchaindra.org) and a kecak chorus by Sekar Jagat (http://bit.ly/AssoSekarJagat).
– Balinese masked theatre: to be confirmed.
– shadow puppetry: artist to be confirmed.
– a Balinese cooking demonstration and tasting.
– a traditional costume parade.
Balinese market
A large Balinese Market will be held on the boat's outdoor seating area. About twenty hand-selected vendors are expected to present and offer Balinese products such as:
– Balinese food;
– plastic arts (photography, painting, sculpture);
– handicrafts (fabric, jewellery, cosmetics, decorative objects);
– Balinese massage;
– books.
> http://www.balisurgawi2017.fr/
Thank you to everyone who came to see us and who knows, maybe next year …