In order to assist the most remote and poorer families, ANAK operates primarily in the rural areas of North and East Bali.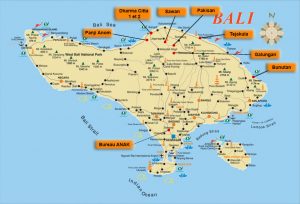 ---
---
Our office is located in Badung, just north of Denpasar and is open from Monday to Friday from 9.30am to 5pm (excluding distribution periods).
Jl. Nuansa Kori Sading Utama No.III/5,
Sading, Kec. Mengwi, Kabupaten Badung,
80351 Bali
INDONESIE
Telephone : +62 (361) 906 913 4
---
---
Click on the location name to activate Google Maps.
---
---
Lila Cita – Bunutan : The first center was inaugurated in February 2006 and is located near the city of Amed.
---
---
Buddhi Cita – Pakisan : In January 2009, we opened the socio-cultural center in Pakisan thanks to the generous donation of Mr. and Mrs. Revel.
---
---
Dharma Cita 1 – Singaraja : in anticipation of the July 2013 back to school period, we decided to rent a big house in Singaraja in order to convert it into a boarding school and to house thirty high school and university students. This place provides the students with their own dedicated space to share between them rather than being isolated in rooms scattered throughout the city.
---
---
Lila Cita – Sawan : in 2017, due to popular demand from the locals, we acquired a small plot in Sawan to build a facility to provide English classes, Balinese dancing and other activities.
---
---
Dharma Cita 2 – Singaraja : In 2019, a new boarding school will be open to house the girls and by 2023, the entire 4 floors will be completed in order to welcome all of our students in Singaraja.
---